TCN Hot Food Vending Machine
TCN hot food vending machine is an end-to-end solution to sell all types of hot food. Great for group canteens and restaurants.
Featuring an innovative heating module, it can deliver pizzas, burgers, sandwiches, pre-cooked meals and other baked goods. In addition, the heating time can be adjusted according to the food being sold, thus guaranteeing the best consumable conditions.
Description
Applications
Specifications
Inquiry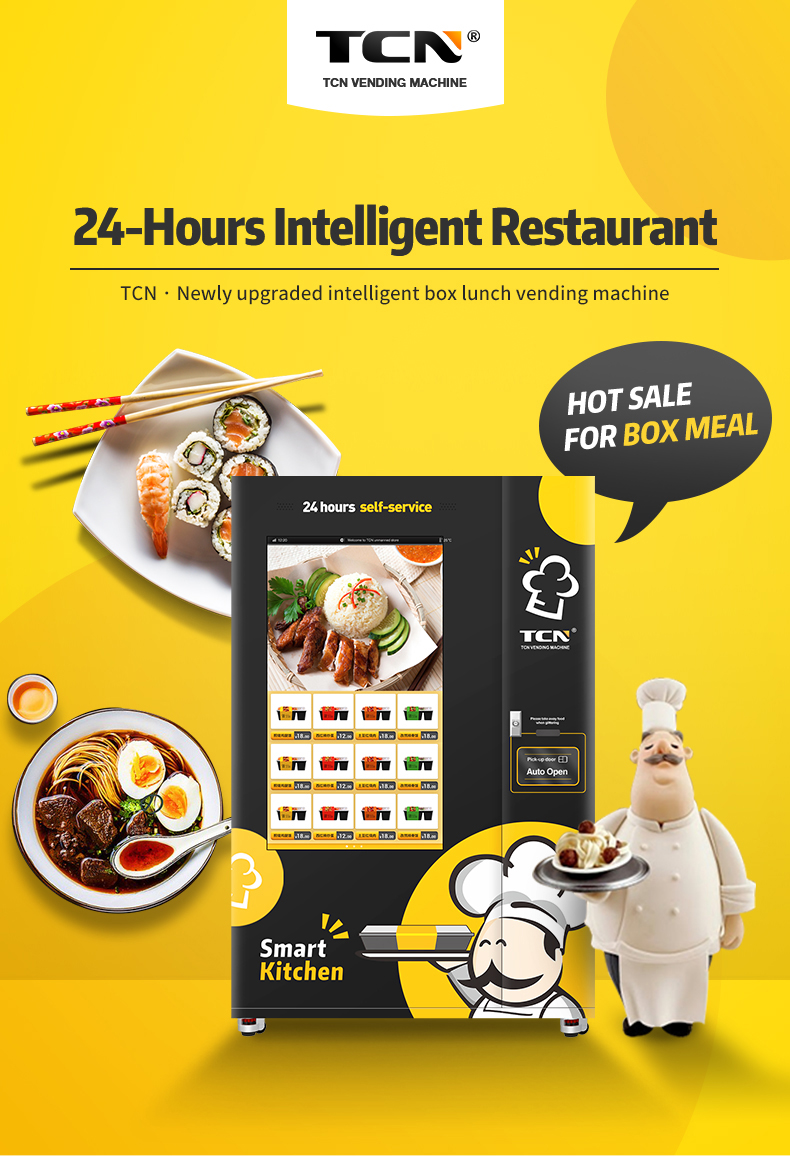 ●With a 49-inch touch screen, video and pictures in various formats can be played.
●The mode of sales is fully automated elevator system to assist different positions of goods to be delivered to the delivery port.
●Adopt international MDB standard design, according with international DEX standard, and can accept any kind of international general standard design.
●Can accept bills and coins, and give change in coins.
●Large glass window display, can check all products intuitively and easy to use.
●The size of the box can be sold more, the compatibility is better, the independent microwave heating province space,
the sale of the box rice capacity is larger.
●The heating speed is four times that of the ordinary microwave oven.
●Microcomputer control system has intelligent data query, statistics, accounting, fault diagnosis and other management functions.
●The size of the goods can be changed at any time, flexible to different sizes of various products.
●It has the function of power loss protection and storage memory function.
●Standard grating delivery inspection system.
●Electric leakage protection function.
●Ozone kills.
●The powerful cloud service management platform can check the sales information and running status of each vending machine from the Internet anytime and anywhere.
●High speed X,Y axis mobile platform, modular refrigeration system, fault maintenance convenience.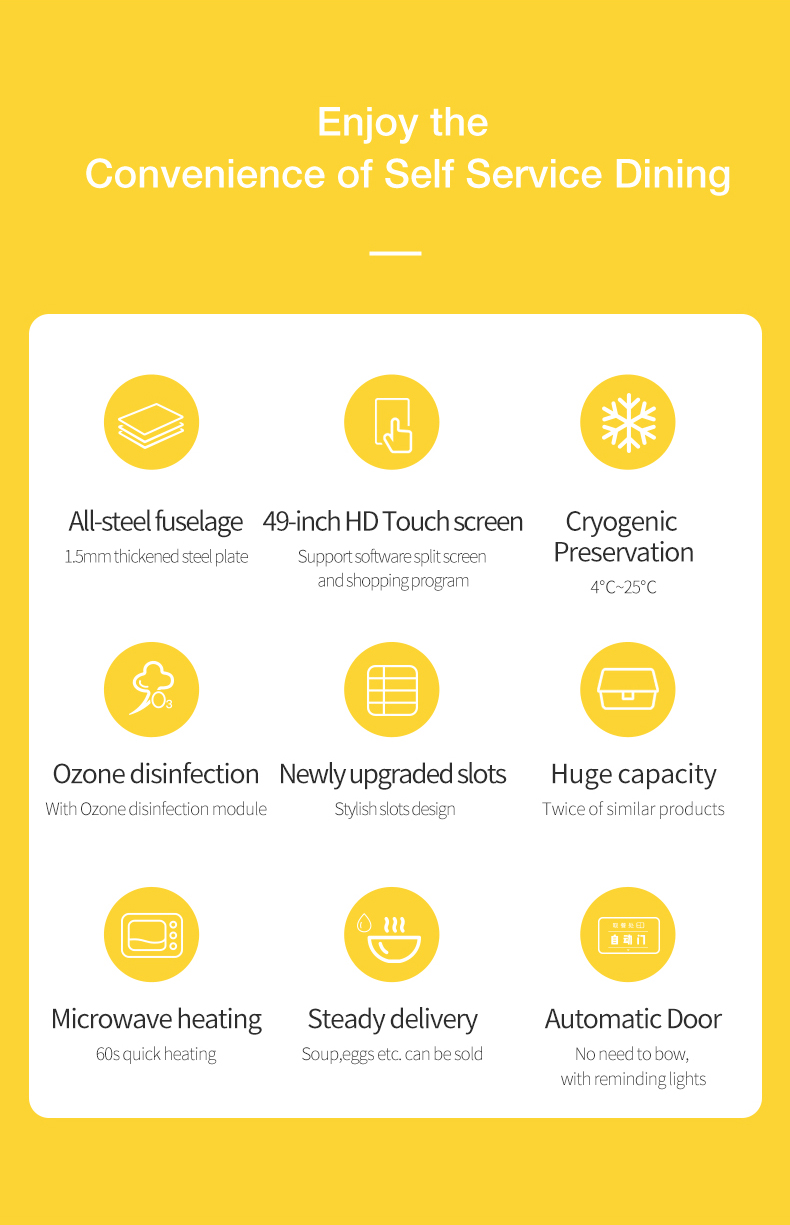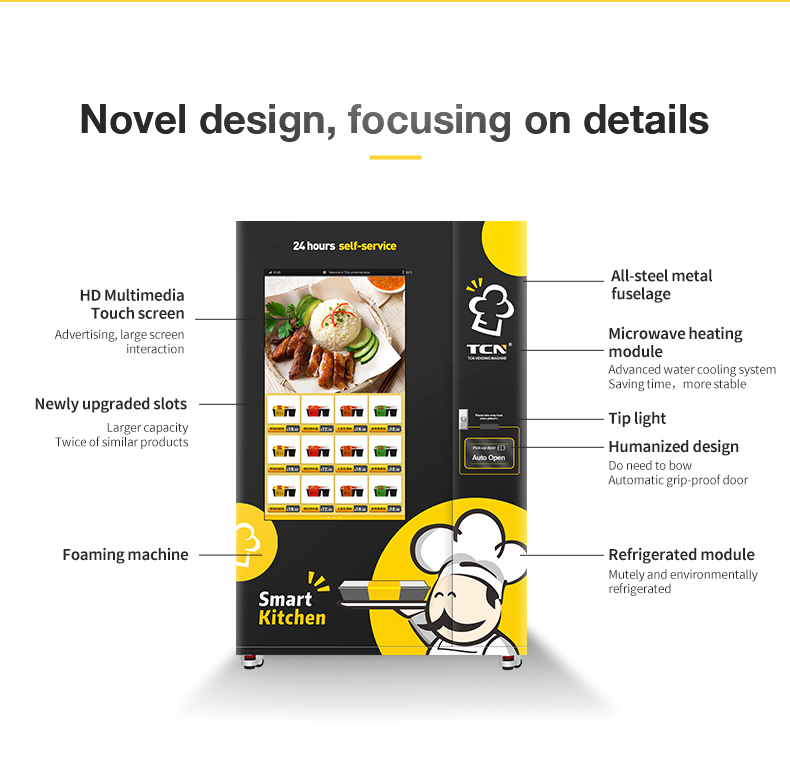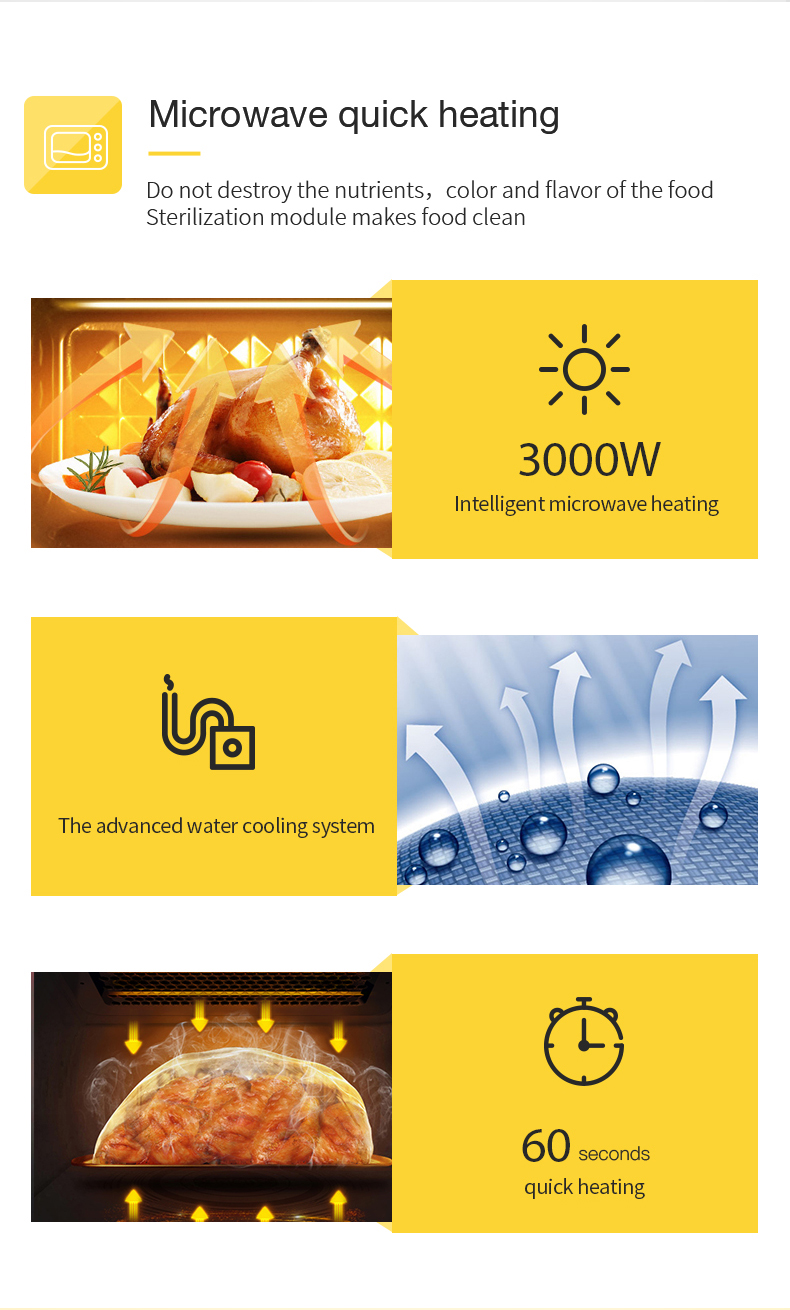 Transparent window, you can see the delicious food, you can watch the whole shipping process.
The heating speed is fast (60 seconds fast heating), which can be heated continuously.
The whole machine can be heated, and the maximum temperature of the whole machine can reach 55 degrees.
The meal time is less than 15 seconds for cold meals and less than 90 seconds for heated meals, and the heating is even.
The capacity is large, and the products sold can be diversified, such as biscuits, boxed drinks, and milk.
For light inspection, it can be applied to various sizes of commodities.
Electronic price tags make it easier to update product prices.
Humanized pick-up port (intelligent induction anti-pinch hand, keep it open before picking up the goods, no need to bend over to pick up the goods in the middle position), ergonomically designed, giving customers a better shopping experience.
There is a platform for placing goods at the pickup port to prevent the food from being hot.
Flexible cargo lane and price planning: can use the shopping cart function
background billboard
Expiration Timer: Control of Product Expiration Dates
Rugged Vandal Resistant Keyboard
Over temperature lock machine
Bank,Supermarket,Airport,Train station,Hospital,Shopping mall,Park,Zoo,Scenic area,Pharmacy(drugstore),Office,Hotel,Subway station,School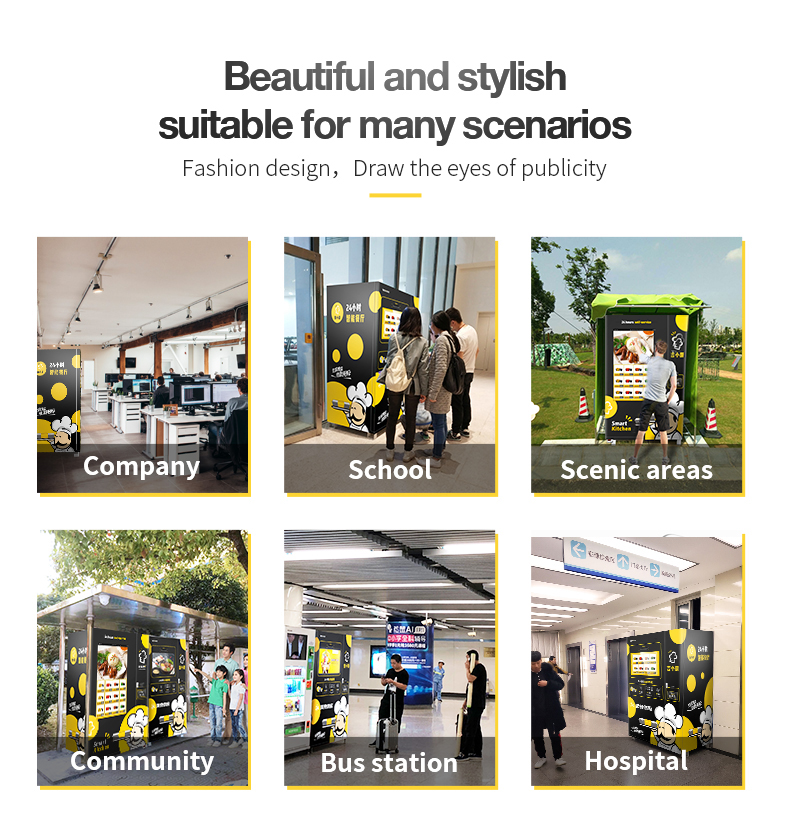 Features:
The heating speed is fast (60 seconds fast heating), can be heated continuously.

The whole machine can be heated, and the maximum temperature of the whole machine can reach 55 degrees.

The meal time is less than 15 seconds for cold meals and less than 90 seconds for heated meals, and the heating is even.

The capacity is large, and the products sold can be diversified, such as biscuits, boxed drinks, and milk.

For light inspection, it can be applied to various sizes of commodities.

Electronic price tags make it easier to update product prices.

There is a platform for placing goods at the pickup port to prevent the food from being hot.

Flexible cargo lane and price planning: can use the shopping cart function

Background billboard

Expiration Timer: Control of Product Expiration Dates

Rugged Vandal Resistant Keyboard

Over temperature lock machine
| | |
| --- | --- |
| Quantity | 60 |
| Type | Rotary shelves |
| Capacity | 60-160 boxes |
| Suitable for | Unsealed packing Box meal,Fast food, soup |
| Dimension | H:1940mmW:1252mmD:1022mm |
| Screen | 49" Touch Screen |
| Voltage | AC110V~120W/220V~240V50/60Hz |
| Power | Heating 3000WRefrigerated 80W |
| Weight | 450KGS |
| Temperature | 4°C-25°C adjustableOptional: Exra heating module |
| Payrment methods | Bill,coin,Cashless payment |
| Support | Credit/DebitCard: VISAMaster CardyAMEXEwallet: Aipay/Momyx/Apple pay/Google Pay/Samsung Pay |