TCN-NCF-7N(H22) fresh ground coffee freshly brewed coffee vending machine
TCN combines the best coffee preparation technology with the latest electronic performance. The results are nothing short of exciting.End users improve their experience with a variety of high-quality grinding technologies, secure smartphone options and payment processes.Operators can rely on new machines with proven technology capable of providing digital solutions such as full HD touchscreens, integrated connectivity that allows remote management of the machine, coffee brewing solutions.
TCN opens up new business opportunities: browsing product categories allows you to create personalized menus and promotions. Thanks to its elegant design and small footprint, this model overcomes the traditional boundaries of vending points.
Description
Applications
Specifications
Inquiry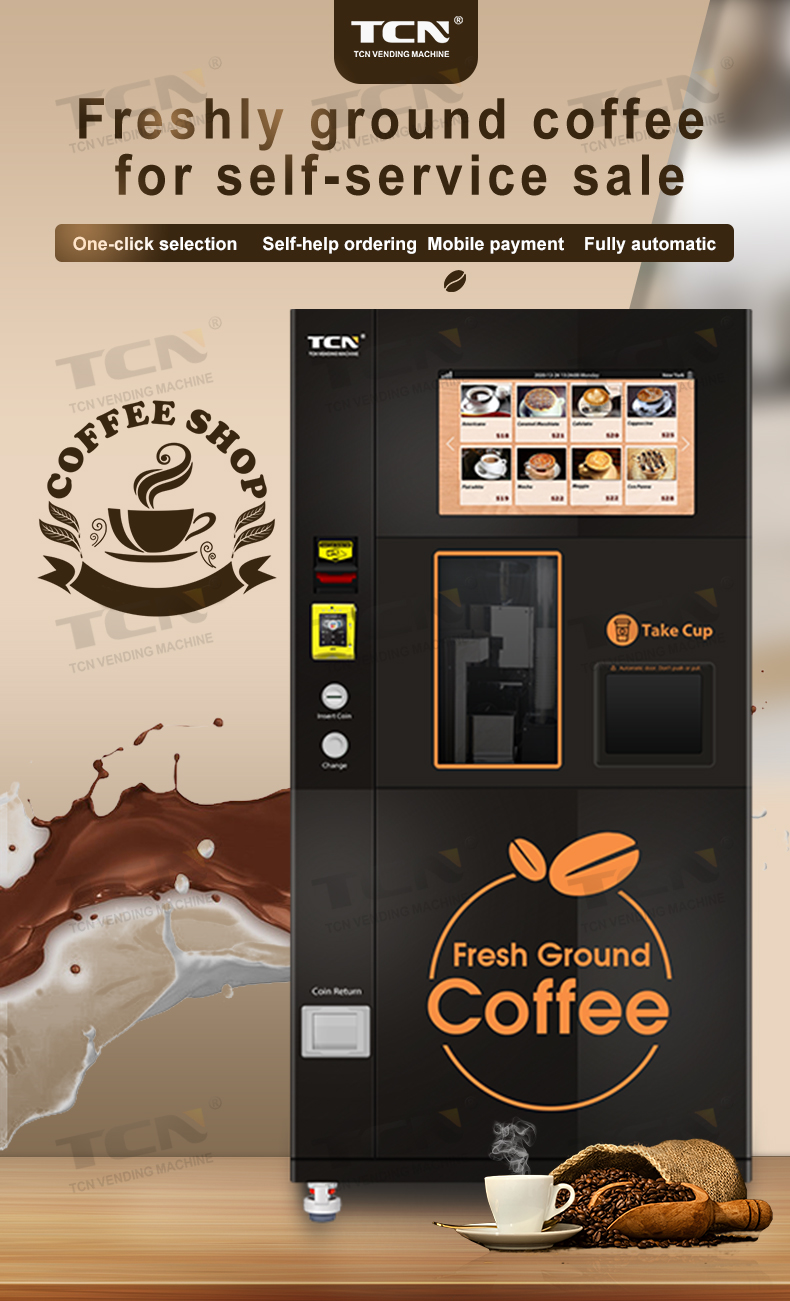 1. Coffee beans grinder:coffee powder is ground on site.The grinding thickness degree can be adjustable.
2. Tidy:All machine operation is visible through glass showcase.
3. More Flavors:6 material box can store different coffee.
4. Ingredients like:Milk ,Coco powder,Sugar,Tea,Powder,Lemon Powder,etc.
5. Intelligent:Machine is automated with robot arm.
6. Safe:Anti-clamping door to prevent hand from clamping.
7. Convenient:Touch screen and get what you have screen.
8. Tasty:extracting the coffee nutrition from high temperature and pressure,enjoy the nature of coffee.
9. Anti-theft:integrated anti-theft door with electronic lock.
10. Precision :High precision weighting sensor can control the quantity which the coffee is extracted to assure the taste for each cup.
11. Accurate:Advanced temperature control sensor to control the temperature tolerance under ±0.5℃.
12. Adjustable cup size:The cup size can be adjusted between 62 mm(60z)~90 mm(13oz).
13. Anti-blocking:the material is very fast to slid through box aisle,the powder can be kept dry and avoid from blocking.
14. Water source : Water source can shift from water tank to water inlet easily.
15. More cups:5 cup slots, can store 400 pcs cups.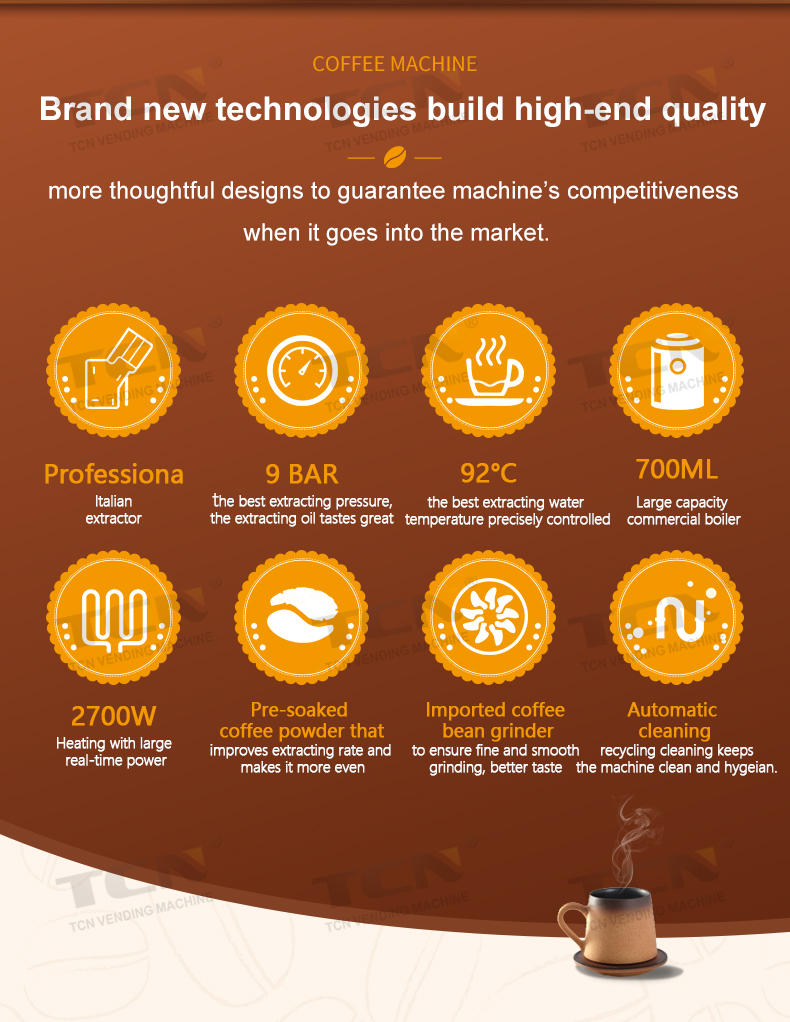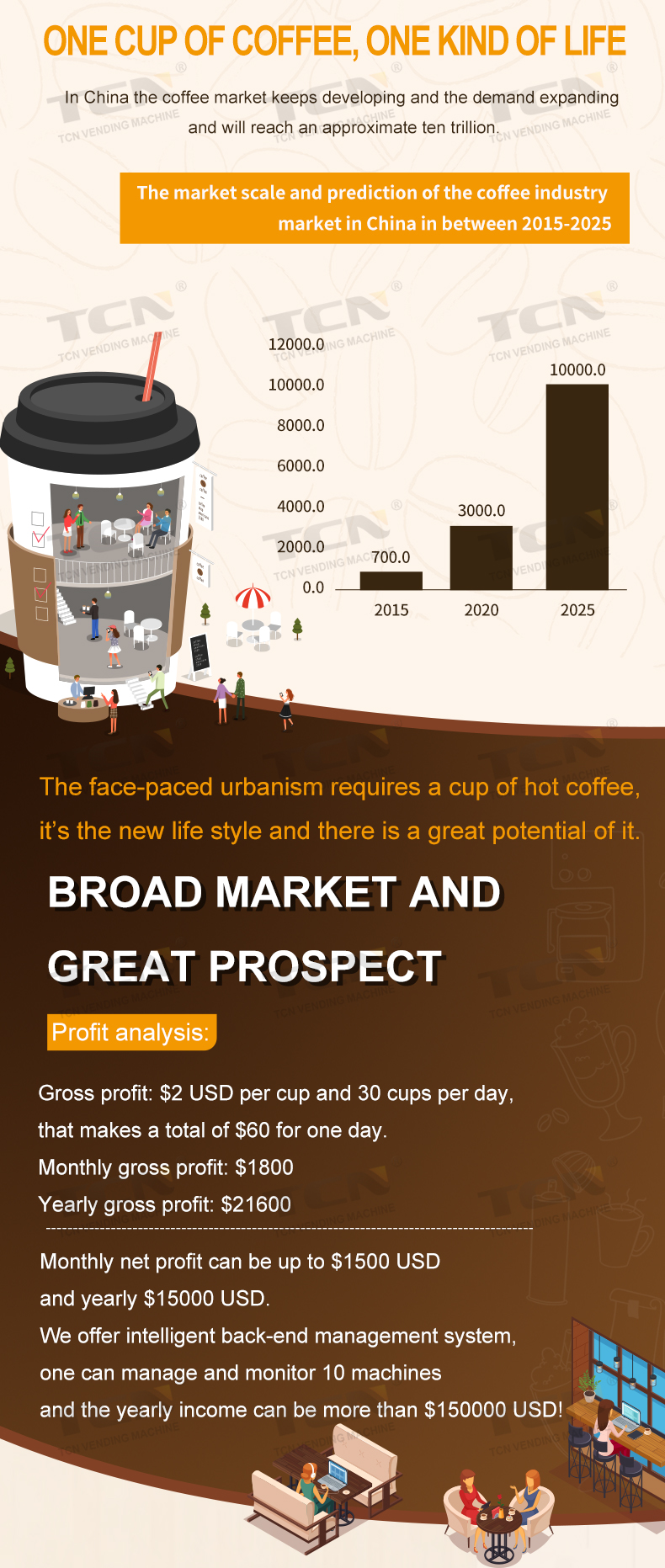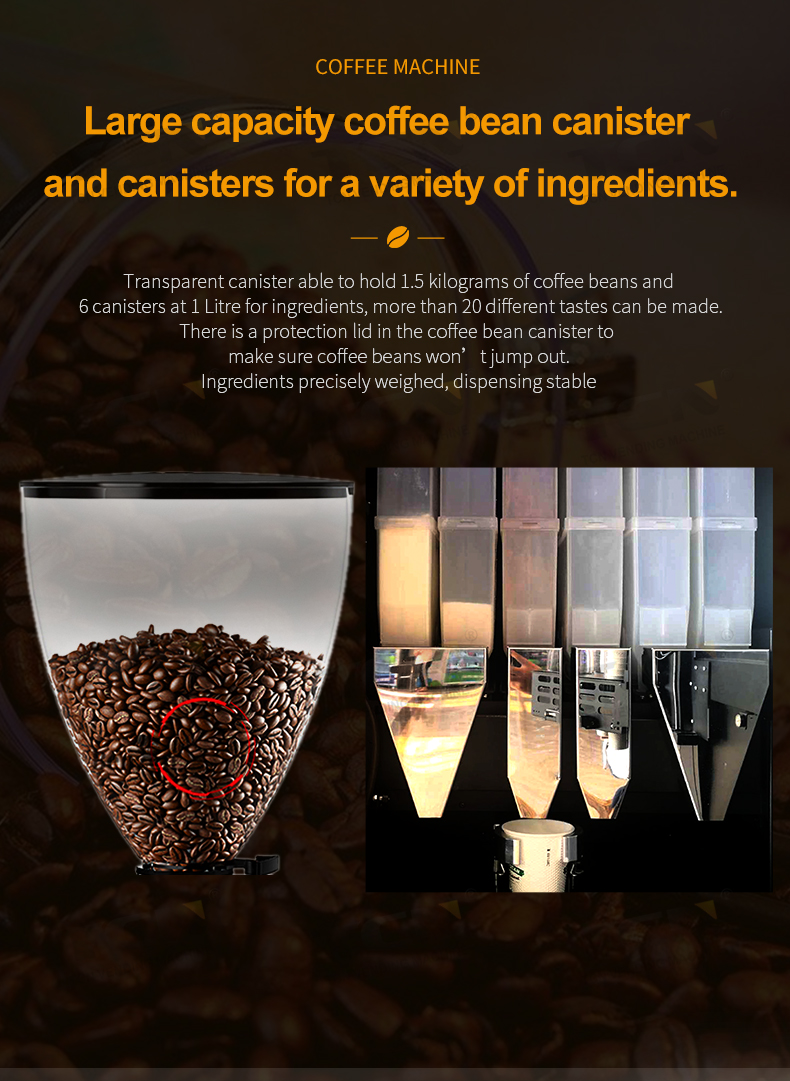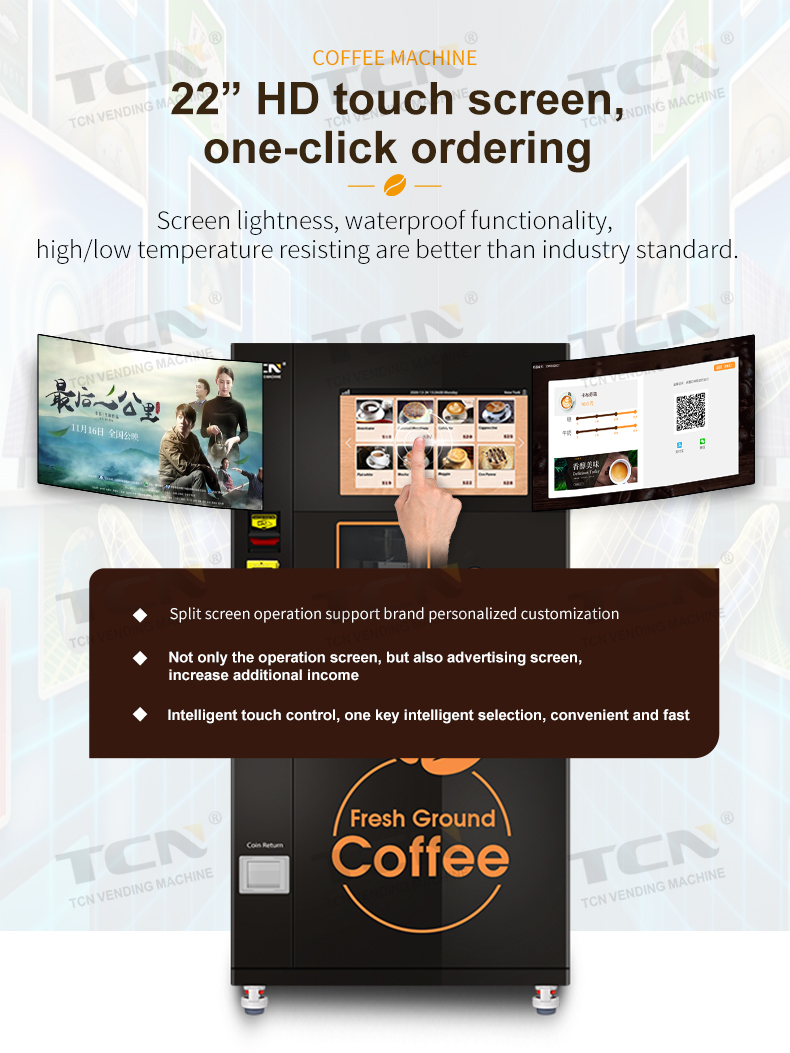 Competitive Advantage:
1.More than 120 R&D engineer.
2. More than 200 national patents.
3.19 years for vending machines.
4.200,000 square meters workshop .
5.Large production capacity more than 300,000 units.
6.Large cost advantage.
7.International automatic assembly line.
8.Professional after-sales service team.
9.Imported high-performance compressor,bill and coin payment system.
10.Strong TCN management system and there is no annual fee.
● Coffee beans grinder: Fresh ground coffee beans,on site making coffee beans into coffee drinks,coffee powder grinding fitness adjustable.
● Tidy: visible operation process through glass showcase.
● Variety: material boxes for Ingredients like: milk, Coco Powder, Sugar,Tea Powder, Lemon Powder, etc.
● Intelligent: High technology automatic mechanical operation with robot arm delivery.
● Safe: Anti-clamping door preventing hand clamping.
● Convenient: Visualizing touch screen purchasing enhance fine buying experience.
● Tasty: High temperature&pressure extracting technology keeps the coffee nutrition and gives natural mellow taste.
Bank,Supermarket,Airport,Train station,Hospital,Shopping mall,Park,Zoo,Scenic area,Pharmacy(drugstore),Office,Hotel,Subway station,School
| | |
| --- | --- |
| Model | TCN-NCF-7N(H22) |
| Name | Combined Coffee Vending Machine |
| Outside Dimensions | H: 1780mm, W: 865mm, D:800 mm |
| Weight | 225kgs |
| Number of cartridges | 6 |
| Coffee beans capacity | 1.5kg |
| Type of drink | 20 kinds |
| Temperature | 5-92°C (adjustable) |
| Water supply method | Bottled water/tap water |
| Android APP | Support |
| Operating client computer | support |
| Operating client phone | support |
| Electricity | AC 100-24V,50/60HZ |
| LCD Screen | 21.5 inches touchable |