TCN-CSC-10C(22SP) gym food and drink gym vending machine fitness vending machine
Increase your profits while extending convenience to your members beyond just water and snacks? Dispense more than just snacks and beverage at the gym. Your members deserve total convenience. Our vending machines can help your members buy something that they might need at the gym such as sportswear, sweatpants, yoga wear, T-shirts and socks etc.Highlights:·Large storage space for more goods·50-inch touch screen, increase ad revenue·AI intelligent management, real-time remote monitoring
Description
Applications
Specifications
Inquiry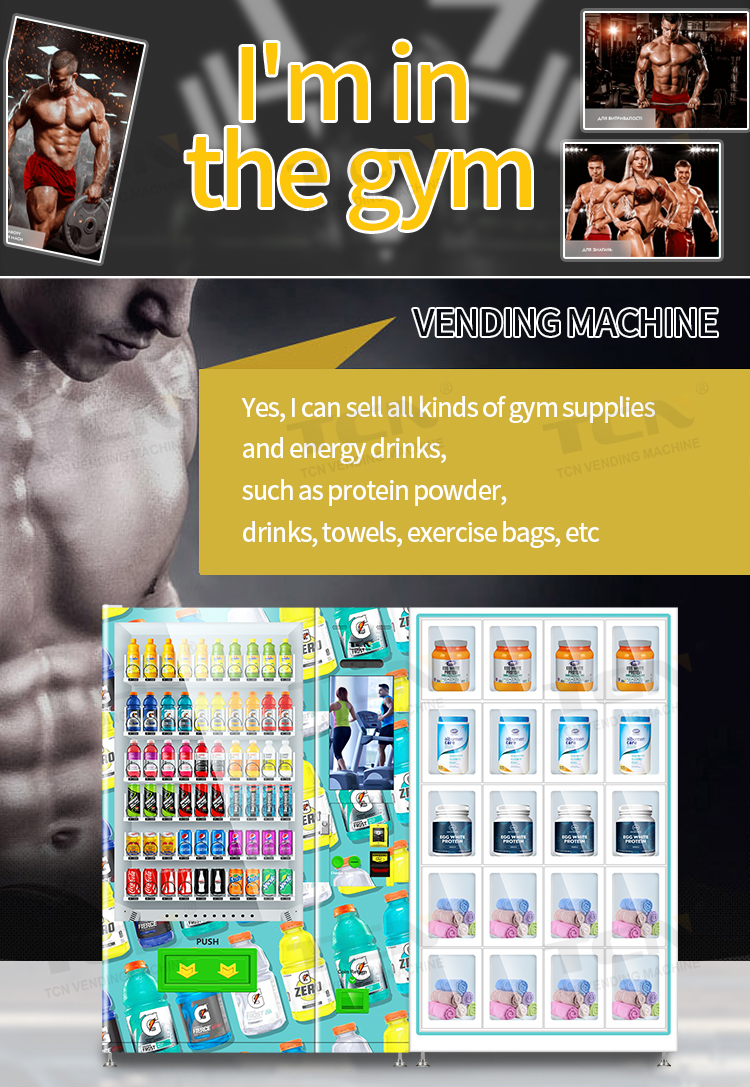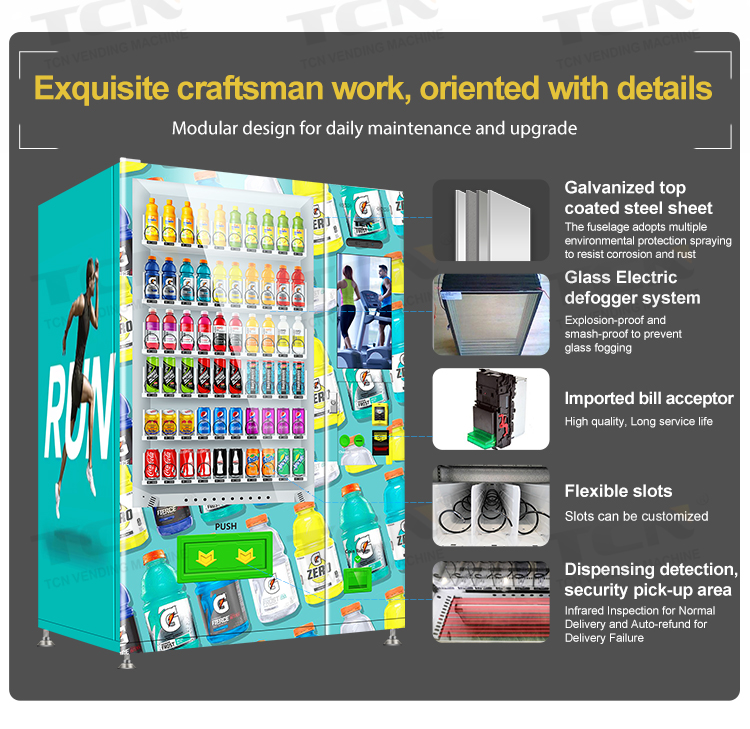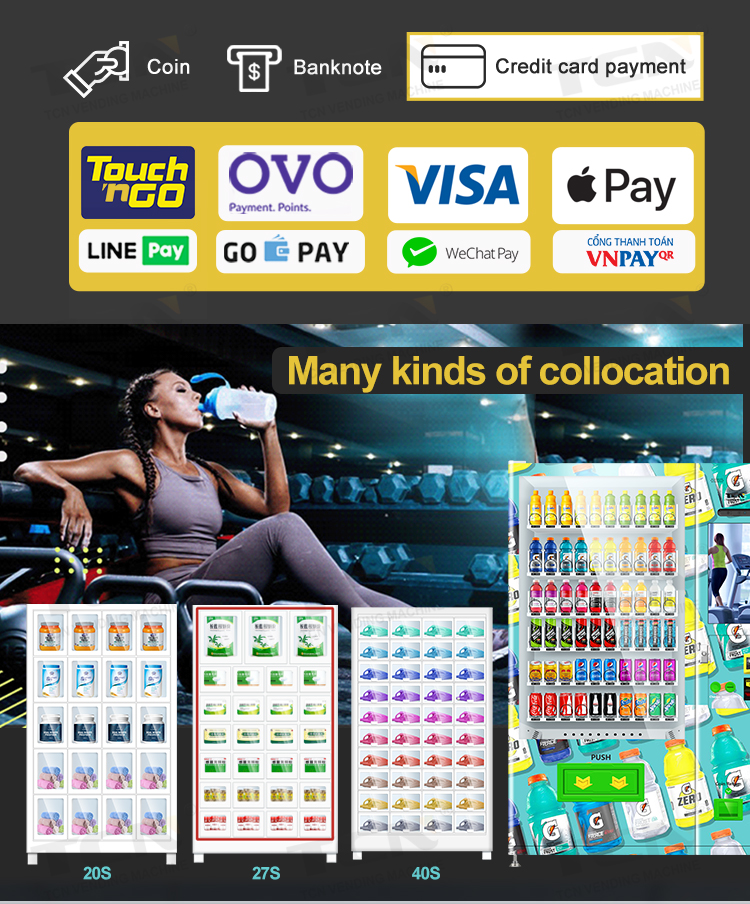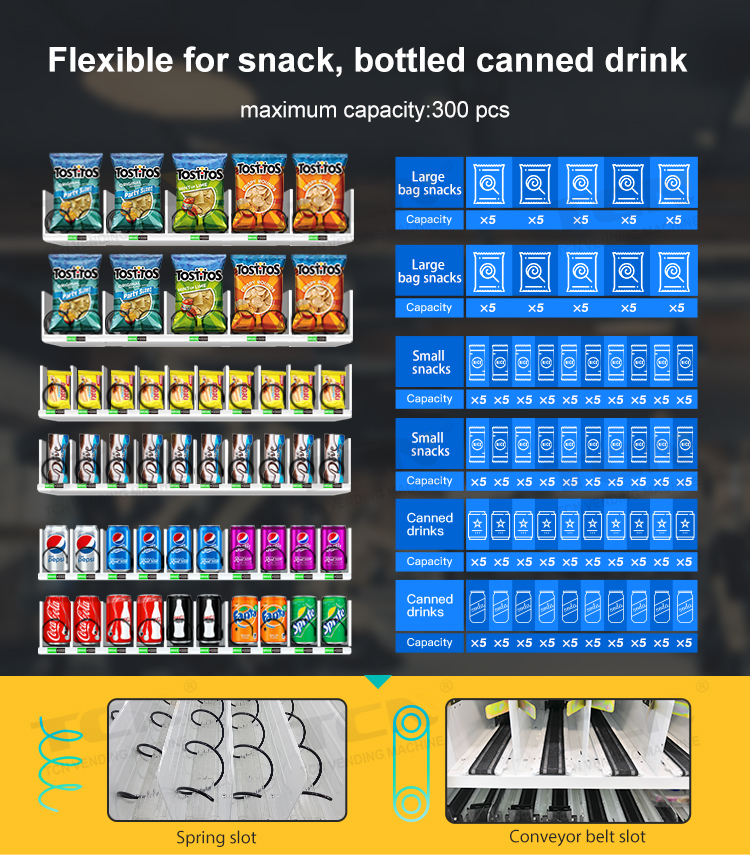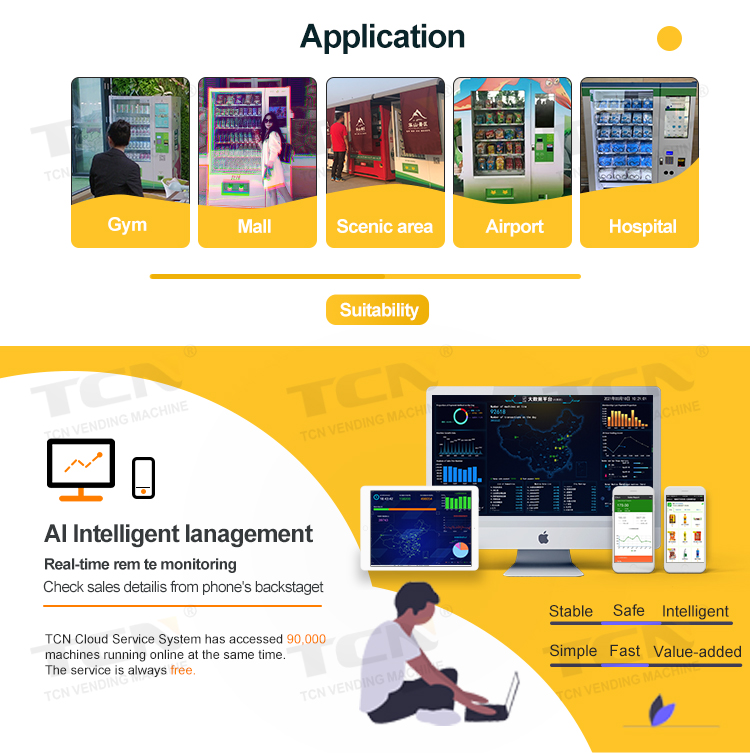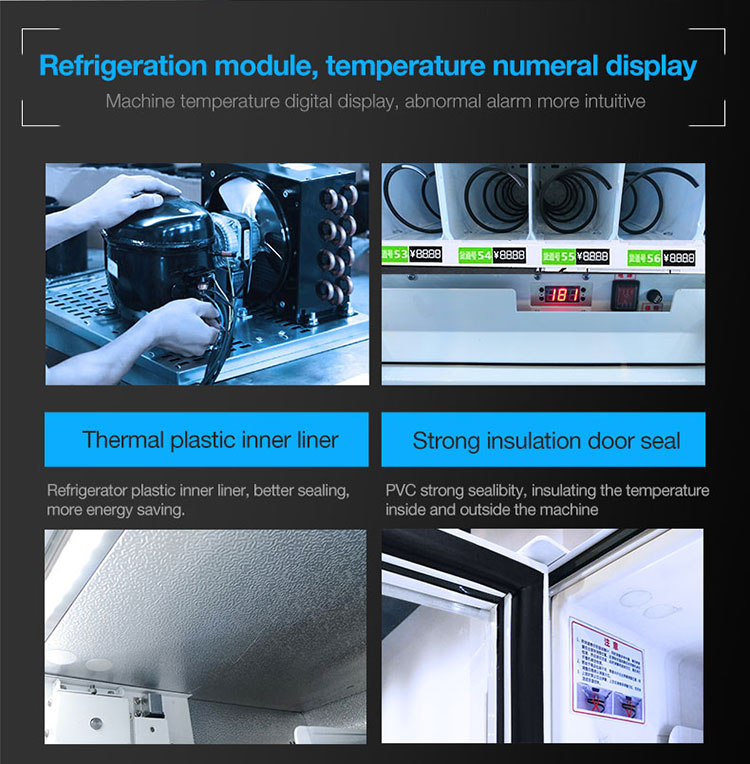 Bank,Supermarket,Airport,Train station,Hospital,Shopping mall,Park,Zoo,Scenic area,Pharmacy(drugstore),Office,Hotel,Subway station,School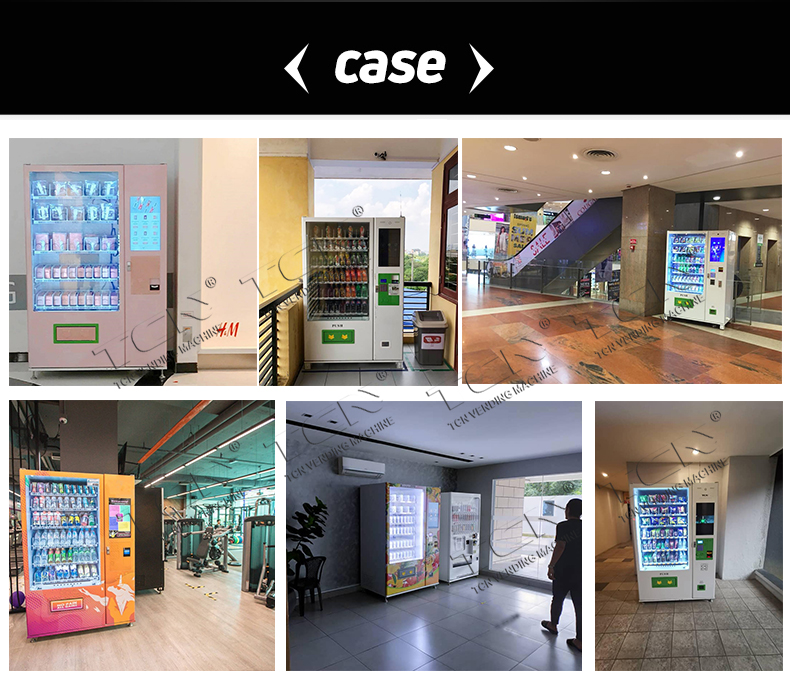 Specifications:
| | |
| --- | --- |
| Model | TCN-D720-10C(22SP) |
| Name | Combo Vending Machine |
| Outside Dimensions | H: 1933mm, W:1269mm, D: 795 mm |
| Weight | 285 kg |
| Merchandise type | 50-70types(according to products size) |
| Storage Capacity | About 300-1050pc (according to size of goods) |
| Interior Storage | 6 drawers |
| Refrigeration temperature | 4-25°C(adjustable) |
| Electricity | AC100V/240V,50Hz/60Hz |
| Payment System | Bill,Coin,Coin Dispenser(MDB Protocol) |
| Standard interface | MDB/DEX |
| LCD Screen | 22 inches |
TCN Vending Machine can support many kinds of payment system.
Description:
TCN vending machines can support international MDB,DEX standard ,can meet all kinds of international standard .
Overall foaming technology,firmer and better temperature insulation.
Add support bar and front end of spring for delivery smoothie.
Adopt import payment system like ICT,ITL,MEI,NRI,NAYAX,INGENICO.
Spring coil ,belt conveyor,spring hook slot be widely used for different products.
Remote management system can be used for free and provided with managing machine operation status ,feedback failure,monitoring running, remote price changing.
1.High strength & powder coated cabinet with fully insulated material, energy efficient vending unit.
2.Secure door with wrap-around enclosures and LED lighting.
3.Triple glazed viewing window.
4.Dual spirals on chip trays.
5.Each tray tilts down 45 degree for fast & easy loading.
6.Adjustable tray partition and height.
7.Secure /lockable cash box.
8.With temperature sensor (4 to 25 degrees Celsius adjustable) Modular cooling system, easy to maintain.
9.With drop sensor/Vend Assure TM / vend sensors/guaranteed delivery system. (holds credit until product is delivered).
10.GPRS remote monitoring system, delivers real time live information.
11.Glass Heater embedded on glass to prevent condensing of moisture.
12.Excellent capacity and size ratio.
13.Flexible layout for snack,fresh food,cans and bottles.
14.Energy efficient compressor,etc.
15.Cooling system with R134a refrigerant,can meet the ROHS requirement.
16.Overall foaming technology,40mm formed,firmer and better temperature insulation.