TCN-FFM-ZV-HB Hamburger Vending Machine
TCN hot food vending machine is an end-to-end solution to sell all types of hot food. Great for group canteens and restaurants.
Featuring an innovative heating module, it can deliver pizzas, burgers, sandwiches, pre-cooked meals and other baked goods. In addition, the heating time can be adjusted according to the food being sold, thus guaranteeing the best consumable conditions.
Description
Applications
Specifications
Inquiry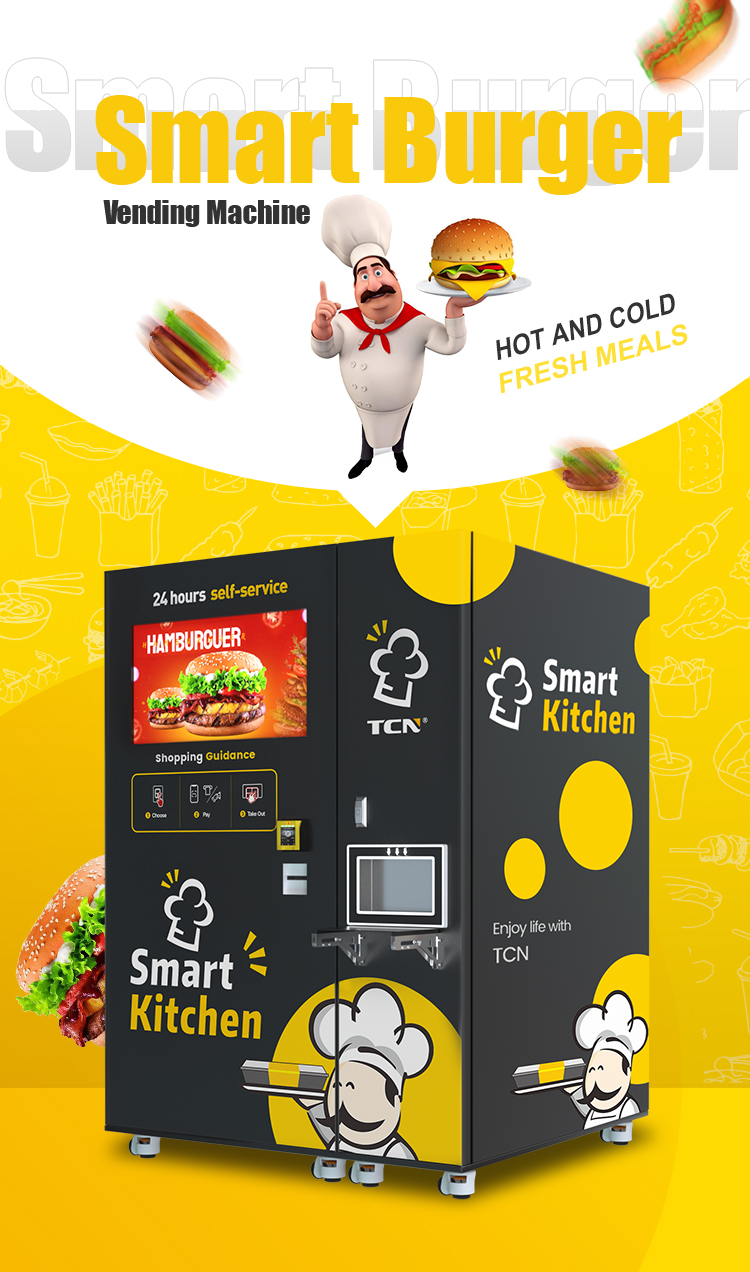 ●The freezing area uses refrigerators to freeze commodities, and the first-level energy consumption is 0.55KW*h/24h.
●The freezing capacity is 10KG/12h, and the temperature range is -26°C—10°C.
●The swing arm suction cup mechanism is adopted: it can move up and down, and the rotating swing arm sucks the goods to the designated position and
has a wider applicability
●ozone sterilization: sterilize the inside of the refrigerator and remove odors.
●It can precisely control the work of each magnetron to ensure heating uniformity and efficiency; it can be continuously heated and sold.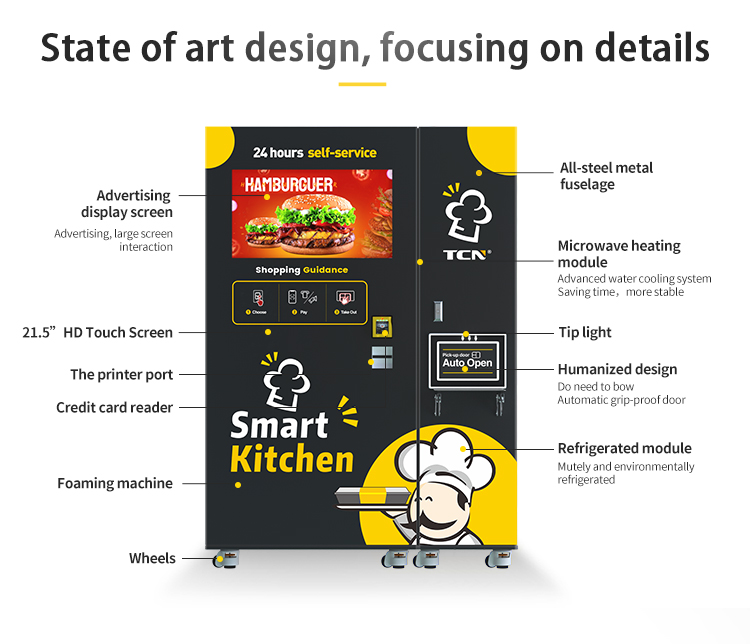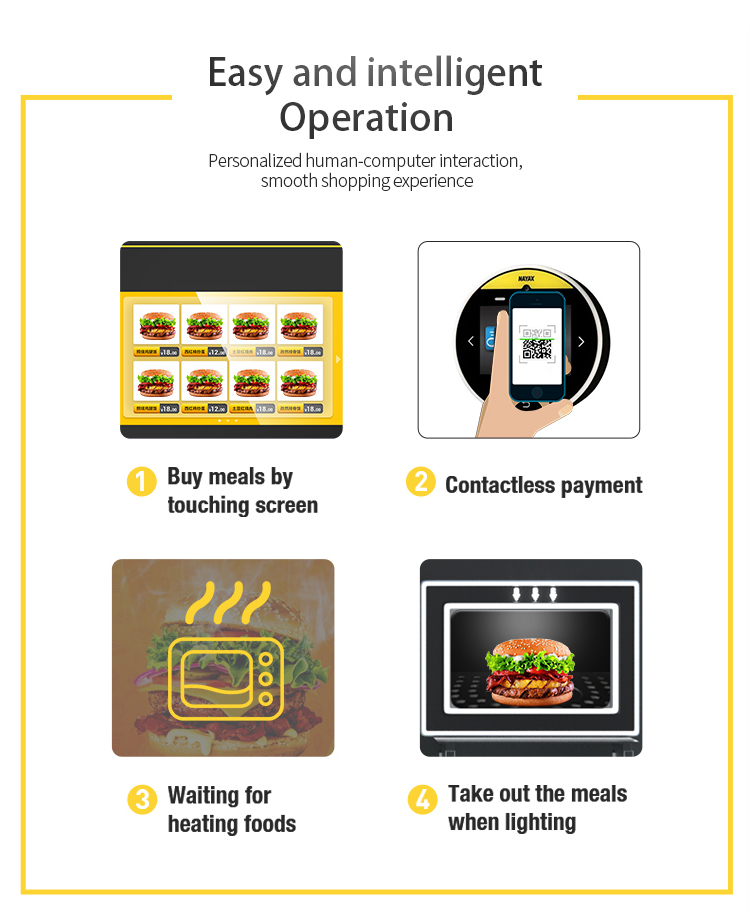 Features:
The heating speed is fast (60 seconds fast heating), can be heated continuously.
The whole machine can be heated, and the maximum temperature of the whole machine can reach 55 degrees.
The meal time is less than 15 seconds for cold meals and less than 90 seconds for heated meals, and the heating is even.
The capacity is large, and the products sold can be diversified, such as biscuits, boxed drinks, and milk.
For light inspection, it can be applied to various sizes of commodities.
Electronic price tags make it easier to update product prices.
There is a platform for placing goods at the pickup port to prevent the food from being hot.
Flexible cargo lane and price planning: can use the shopping cart function
Background billboard
Expiration Timer: Control of Product Expiration Dates
Rugged Vandal Resistant Keyboard
Over temperature lock machine
Bank,Supermarket,Airport,Train station,Hospital,Shopping mall,Park,Zoo,Scenic area,Pharmacy(drugstore),Office,Hotel,Subway station,School
| | |
| --- | --- |
| Quantity | / |
| Type | conveyor |
| Capacity | 90-170 |
| Suitable for | hamburger Sandwich, box meal,mexican food, noodles |
| Dimension | H:1940mmW:1370mmD:1280mm |
| Screen | 21.5" Touch Screen |
| Voltage | AC110V~120W/220V~240V50/60Hz |
| Power | 3800Wmicrowave oven 3000W |
| Weight | 400KGS |
| Temperature | -26C-10°C adjustableemperatureOptiomal: Etra hesting module |
| Payrment methods | Bill,coin,Cashless payment |
| Support | Credit/DebitCard: VISAMaster CardyAMEXEwallet: Aipay/Momyx/Apple pay/Google Pay/Samsung Pay |