TCN OEM ODM warm food hot meal fast food vending machine
| | |
| --- | --- |
| Minimum Order Quantity: | 3 |
| Price: | Contact for Price |
| Packaging Details: | Carton or plywood |
| Delivery Time: | 15 working days |
| Payment Terms: | T/T |
| Supply Ability: | 300,000 units/year |
| Warranty | 1 Year |
| After-sales Service | Video technical support, Online support |
| Place of Origin | China |
| Certification | CE,CB,ISO9001,SGS |
Description
Applications
Specifications
Inquiry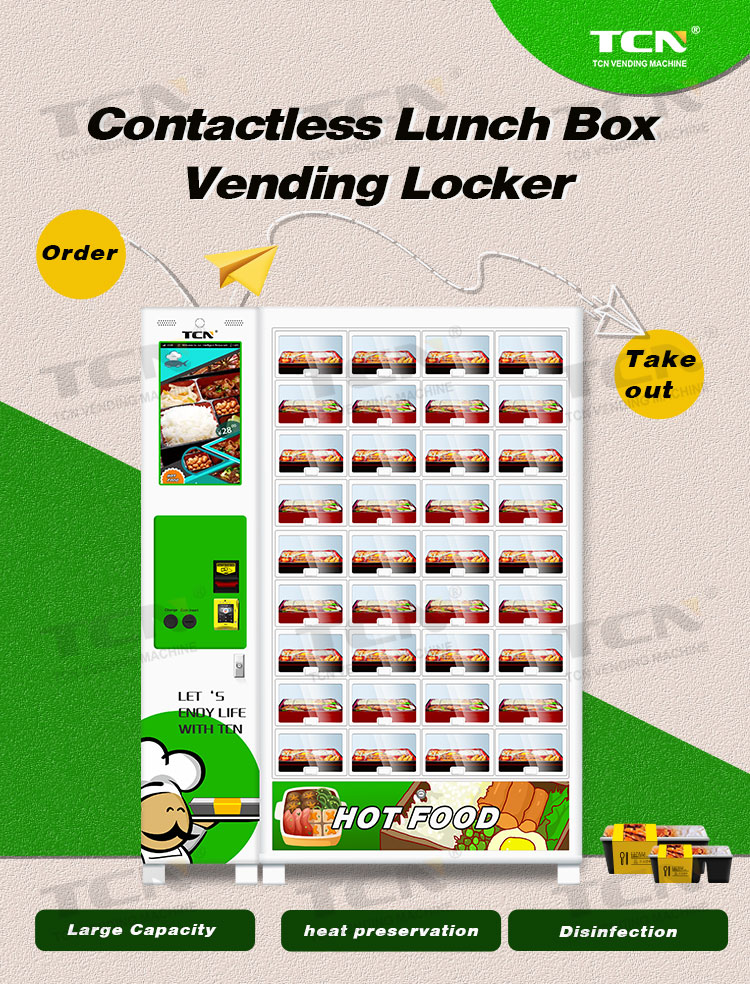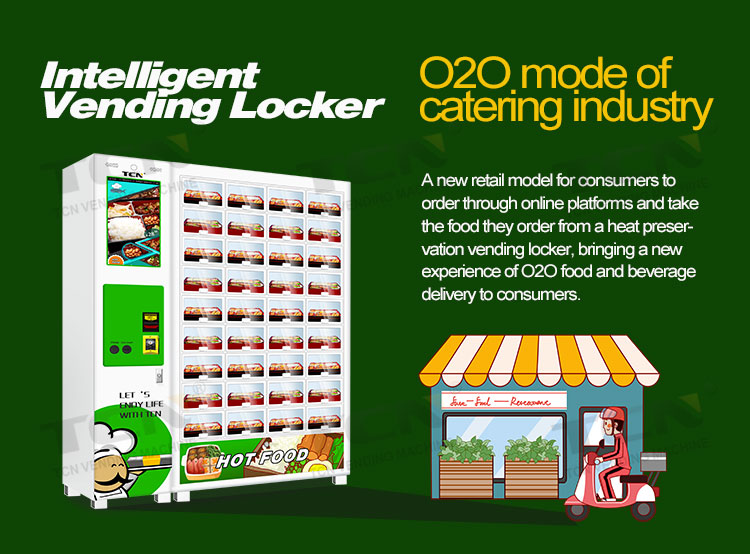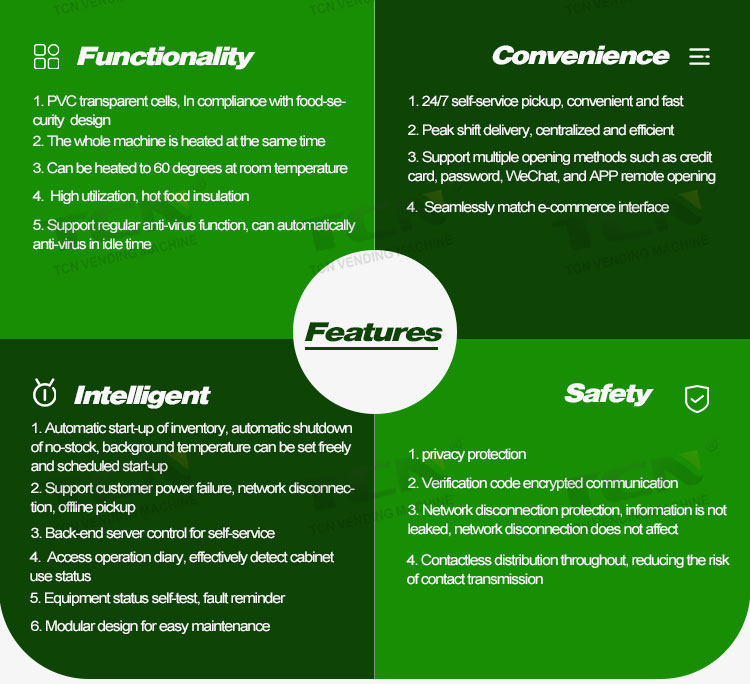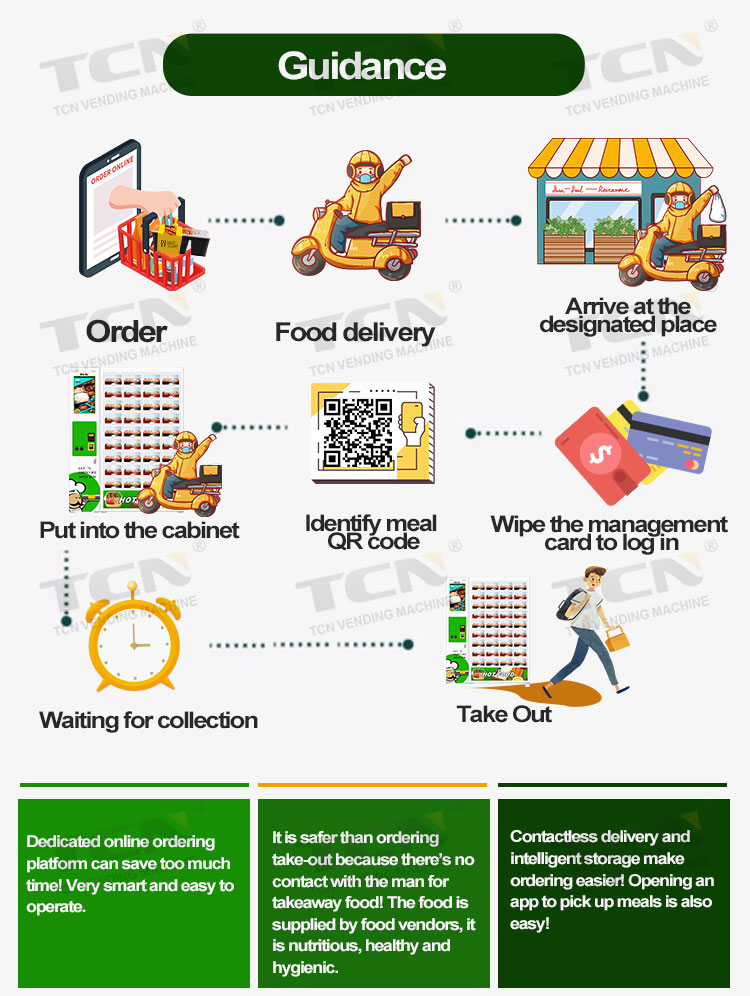 ●With a 21.5-inch LCD display, video and pictures in various formats can be played.
●Adopt international MDB standard design, according with international DEX standard, and can accept any kind of international general standard design.
●Can accept bills and coins, and give change in coins.
●Large glass window display, can check all products intuitively and easy to use.
●The size of the box can be sold more, the compatibility is better, the independent microwave heating province space,
the sale of the box rice capacity is larger.
●Microcomputer control system has intelligent data query, statistics, accounting, fault diagnosis and other management functions.
●The size of the goods can be changed at any time, flexible to different sizes of various products.
●It has the function of power loss protection and storage memory function.
●Standard grating delivery inspection system.
●Electric leakage protection function.
●Ozone sterilization.
●The powerful cloud service management platform can check the sales information and running status of each vending machine from the Internet anytime and anywhere.
Bank,Supermarket,Airport,Train station,Hospital,Shopping mall,Park,Zoo,Scenic area,Pharmacy(drugstore),Office,Hotel,Subway station,School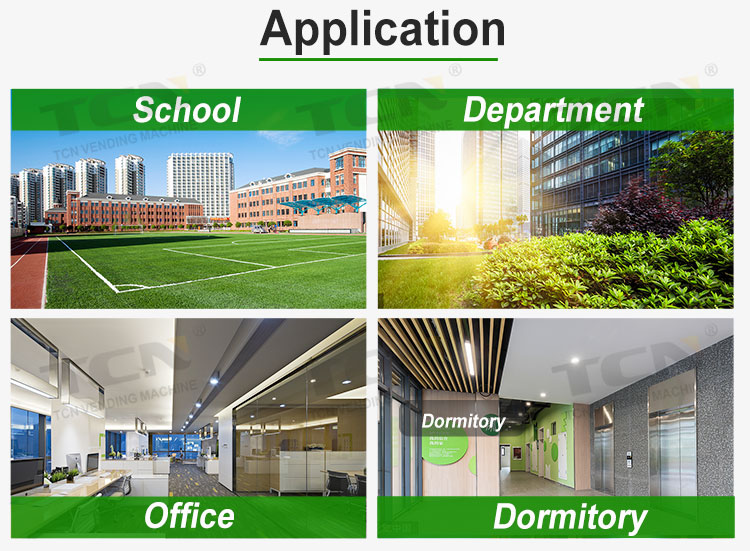 | | |
| --- | --- |
| Model | TCN-ZK-36S |
| Name | Fast Food Vending Machine |
| Outside Dimensions | H: 1940mm, W: 1100 mm, D: 1153 mm |
| Weight | 500kg |
| Merchandise type | 36 choices(fast food/lunch box/box-packed product) |
| Storage Capacity | About 36 pcs(according to size of goods) |
| Interior Storage | 6 drawers |
| Temperature | Can be heated to 60 °C(without refrigeration) |
| Electricity | AC100V/240V,50Hz/60Hz |
| Payment System | Bill,Coin,Coin Dispenser(MDB Protocol) |
| Standard interface | MDB/DEX |
| LCD Screen | 21.5 inches |