The New Trend----Breakfast Vending Machine
Yesterday, a client told me that he found that many office workers didn't eat breakfast in the morning because there was not enough time in the morning to buy breakfast. Then he asked me, "I want to put a vending machine under the office building that can sell breakfast like stuffed bun and soymilk. What do you think?" After that, I was discussing with him that since there are only two kinds of fast heating food, namely stuffed bun and soymilk, the standardized process can be made, which greatly optimizes the supply chain and avoids the high store rent and labor cost, which greatly reduces the cost. Breakfast + Internet, this is really a good trend.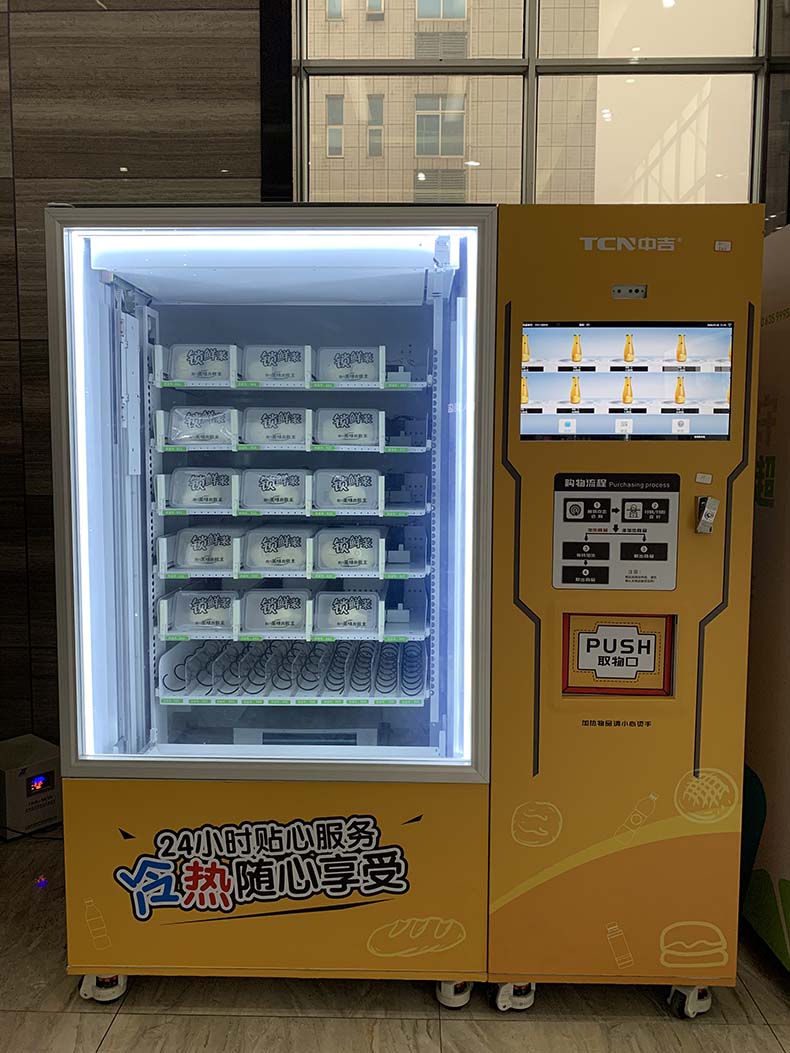 Soymilk and steamed bun are two of the most popular breakfast.
Most office workers will choose them as breakfast on busy mornings. The breakfast machine can be placed in some places where enterprises gather, such as under the office building of the enterprise square.
Because most of people use mobile payment now, it's better to buy a machine that can support cashless payment. Of course, this machine also needs to have the functions of heating, heat preservation and fresh-preservation, so that the customer experience will be much better and the repurchase rate will be increased. Also, we can place some lunch boxes vending machine below to sell boxed meals. Of course, we won't elaborate on the functions and introduction of the lunch boxes here. Interested users can check it on our official website:www.tcnvend.com and email us: sales@tcnvending.com.
Breakfast vending machine is a good development trend. It not only saves cost, but also is easy to manage. The only thing we need to pay attention to is to select a place where there is a lot of traffic and people and if they have demand for breakfast. In this way, we can guarantee the sales volume, the exposure and continuously attract people to buy. In addition, the freshness and taste of stuffed bun and soymilk are very important, which should be kept at all times, so as to ensure the repurchase rate. At present, the refrigeration, fresh-preservation and heating functions of vending machines have been very mature, which is completely trustworthy.
With the increasing pace of people's life, more and more people begin to choose economic, fast way to enjoy breakfast, so the breakfast vending machine came into being. It is understood that many kinds of breakfast vending machines have appeared on the market at present, and the food sold is also various, such as bread, milk, steamed bun, soybean milk, juice, pie, porridge, etc. At present, the market of automatic breakfast machine is still a worthy investment.
Nowadays, Intelligence of China has reached a very high level. Unattended stores have taken root in many cities, and new e-commerce platforms have emerged. The increasing level of Internet icloud technology and logistics, coupled with the support of government policies for innovation and entrepreneurship, these positive factors undoubtedly provide strong support for the further development and promotion of the breakfast self-service industry market. Not only that, with the further increase of the market share of Internet mobile payment, the efficiency of payment is also improved, and our food preservation technology has also been a big breakthrough. Our breakfast vending machine benefits from these aspects, and has a very large market space with its inherent convenience. I believe that the breakfast vending machine will have great potential. In the near future, the breakfast vending machine will become one of the important platforms for residents to consume breakfast.